The Rerum Novarum Center has at its disposal trained social workers, lawyers, teachers and business managers as well as advisors and committee members with an aboriginal background. Their guidance, advice and support enables the Center to offer an ever-increasing number of quality services adapted to the needs of the times, in terms of persons served and the type and nature of services offered. To meet the requirements of specific target audiences or particular services, the Center will engage professional social workers, persons working with indigenous peoples, translators bilingual in Chinese-Tagalog/Vietnamese/Bhasa to help migrant workers and professional management staff to deal with cases and improve the quality and efficiency of service offered to communities.
The thorough and efficient service offered by the Rerum Novarum Center has earned it a good reputation among workers leading to workers voluntarily seeking its services. This is a sign of acknowledgement and encouragement. The Center has also won various prizes.
In 2004 it won a prize for Contributions to the Workers Movement from the Taiwan Confederation of Trade Unions. It has also won confirmation from the government. The cases it has handled have regularly attained the grade of excellent or 'A'. In 2000 it won a prize as the most effective employment service agency in Taiwan from the Employment Agency of the Council of Labour Affairs of the Executive Yuan. In 2001 it won a prize as a legal body which has made a mark in promoting the social and economical development of indigenous communities from the Council for Indigenous Peoples of the Executive Yuan. It won one of 10 gold prizes for a broadcast dealing with social welfare from the Ministry of the Interior. The same year the Center was honoured as a model of justice by the Employment Agency of the Council of Labour Affairs of the Executive Yuan. In 2005 the Director of the Center was named a benefactor for a healthy city by Taipei City for her promotion of understanding among peoples of diverse ethnic backgrounds
Since 2010 many service teams at the Center have frequently won recognition from relevant government departments. The Ministry of Justice gave an award for contributions to the protection of victims of crime; the Ministry of the Interior has many times given an award for zealous work to prevent human trafficking and prizes for zealous service to immigrant spouses from China and abroad.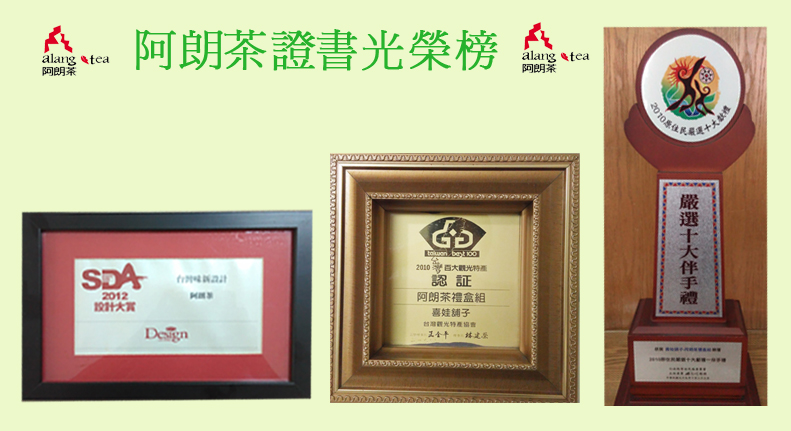 Acknowledgment of the Center's help in guiding the production and marketing of high mountain oolong tea by small-scale indigenous planters in Ren'ai District of Nantou County, led to the tea gaining certificates of excellence and winning a place among the ten specially selected indigenous handicraft products in awards granted by the Council for Indigenous Peoples of the Executive Yuan in 2010. The gift-packaged A-lang Tea was also selected among the hundred special products selected by the Taiwan Association of Tourist Souvenirs and a Lovely Taiwan Prize for new designs from Shopping Design magazine.